Learn about our sanitary protocols and steps we are taking to keep you safe. Read more
Open Waters And Virgin Reefs Snorkeling Tour In Cancun
Take Your Cancun Snorkeling Experience To The Next Level
(Free Cancellation)
Tour Highlights
Use Promo Code: BLKFRI20 and get a 20% Discount!
Hotel pick up and drop off included in Cancun.
Friendly, dedicated and knowledgeable english speaking guide.
Share the tour with other skilled - advanced snorkelers.
Small groups to guarantee individual attention (8 people per group).
Secret, secluded, unique and most virgin snorkeling spot in Cancun
Huge coral formations, caves and crevices. Magical array of marine life
5-7 m (18-24 ft) deep reef ideal to skin dive.
Snorkel over a shipwreck sunk in 1988.
4 snorkeling stops: 3 virgin reef area + Shipwreck.
Exclusive Total Snorkel Tour- We're the only ones offering this tour!
Purchase your tour in advance,
we have very limited capacity!
2 hours in the water +
30 minutes briefing
Daily at 5:00 pm
Door to door
transportation is included.
Once in a lifetime
experience
English speaking guide.
Minimum age 12+. Snorkeling
experience needed
Price: $356.00 usd

Reserve Now & Pay Later
Secure your spot,
pay at check-in!
Free Cancellation
Up to 24 hours in advance

+52 99 82 34 08 70
Dive into Cancun Meco Reef- Only for experienced snorkelers or skilled swimmers
Do you think you've seen everything? Looking for something new?

This tour was created by Total Snorkel Cancun's owner. He describes himself as a snorkel fan and marine life lover. After keeping this tour as secret only for friends and family, he's decided to share his hidden treasure!

Our Open waters and virgin reefs snorkeling tour in Cancun is divided in 3 areas or stops:
---

Start your experience with a prompt and comfortable hotel pick-up on air-conditioned vans.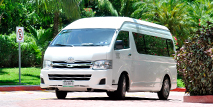 ---

If you choose our Reserve Now and Pay Later Method, or if you missed signing the e-waiver, this is time to complete so.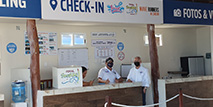 ---

Short but useful briefing on shallow waters. Learn to wear the equipment properly, swim with fins, breathe through the snorkel, defog the mask, and other useful tips that will make your experience much more enjoyable. Learn more about our briefing here.

---

Enjoyed over our secret virgin reef. On this tour we'll get into giant coral formations, coral caves, crevices and huge white sand pits. An authentic playground for real snorkeling fans!.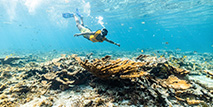 ---

A different spot of the same rare, secluded and unique reef. See a magical array of marine life with our dedicated and knowledgeable guides. Free dive on this natural 18-24 ft deep wonderland.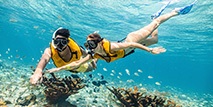 ---

Enjoyed over a full-of-sea-life shipwreck. The shipwreck is full of fish a colorful corals. Sorrounded by crystal clear waters and white sand, you'll feel like you are swimming in a natural pool!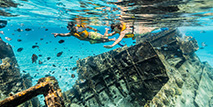 Back on the marina, after taking a freshwater shower, and watching your pictures, the van will be waiting for you to take you back to your hotel.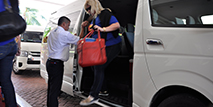 Before going further, we must mention previous experience is needed. You don't need to be an expert, but feeling comfortable breathing through the snorkel and being a good swimmer helps to have a more enjoyable experience (no need to be Michael Phelps). If you're more like a beginner you might want to check our Reef, Musa, Turtle Encounter And Shipwreck Cancun Snorkeling Tour.

We will always swim in the same direction as the sea current (not against it). We like doing your life easy; you'll feel you are on a "lazy river".

More details

Get ready to become speechless with this tour. We'll swim among bigger and special fish such as big barracudas, yellow snapper and black grouper (species you'll never find in shallow waters). Turtles and eagle stingrays are also found here!

We'll help you to improve your snorkeling skills with some cool tips! According to our experience the best way to do snorkeling and enjoying a reef is swimming as a dolphin, and we'll teach you how!

Yes, you've read it right, as a dolphin. We don't mean swimming at 20 miles per hour or jumping 20 feet above the water's surface, we mean snorkeling on a "sine waveform".

The secret to get the best from the reef is to get your eyes as close as possible to the coral, colors and details are magnified on a way you won't believe. We'll invite you (and teach you how) to take a big air sip, hold your breath and coming to the bottom where all the magic happens! Never done that before, don't worry, your in the best's hand!

With Total Snorkel you can always expect something else! Book your tour now!
Included:
---
Round trip transportation from any hotel in Cancun (Hotel Zone or Downtown) on a comfortable air-conditioned van.
Special attention during snorkeling in Cancun
Short and useful briefing-lesson: Before getting on board, that will make your experience much more enjoyable, that will make your experience much more enjoyable.
Complete snorkeling gear: Special snorkeling life vest, mask, snorkel, and fins.
Qualified and friendly english speaking guides.
4 snorkeling spots (3 virgin reef area + Shipwreck).).
Bottled water and lockers.
Passenger insurance.
Not included:
---
Dock fee and reef conservation tax (total $15.00 USD per person). Payable at check-in.

Tips (optional).
Photo and video service are optional and with extra cost. We recommend to bring some money, we are sure you will want some of them.
$5usd deposit for locker's key (refunded when returning the key)
Activity duration:
---
2 hours in the water! Consider extra 1.5 hours for transportation and briefing.
Available daily at 2:30 pm. The pick up time is set according to the distance to your hotel. The exact time is sent to you on the booking confirmation.
Remember to bring:
---
Swimsuit, sunglasses,dry clothes, towel and cash for personal expenses.
Sunscreen is not allowed, as an enviromental protection measure (coral reef damage). Long sleeve shirt or rashguard is recommended.
Not recommended for travelers with back problems
Not recommended for pregnant travelers
No heart problems or other serious medical conditions
Smile!:
---
Our paparazzi will be following you during the whole snorkeling tour and will take awesome underwater photos and video, which you will be able to see before going back to your hotel.
Link by email to downlad your picture and videos (back up for 1 month)
Get it for only $45 usd (price per family of up to 1-2 people, not per person).
---
You may also be interested in these products
---
Exclusive Guarantees
Safety in your
purchase
Completely secure and reliable online shopping so you can enjoy your vacation in Cancun. We use a 2048-bit SSL encrypted payment.
Bad Weather Warranty-Full Refund
If there's seaport closure (bad weather), enjoy your tour snorkel activity another day or if you prefer your money back.
Easy Reschedule Booking flexibility
Plans have changed? Don't worry, easy changes in day and time of activity.
No bookings fees and no hidden charges
No hidden charges, ours it's the official, fairest rate