Learn about our sanitary protocols and steps we are taking to keep you safe. Read more
Swim and Fly Tour Package
Cancún Package Tour: Snorkeling + Parasail
Tour Highlights:
5 areas Cancun snorkeling tour + Parasail flight (the boat runs a 3 miles ride once you're flying).
Snorkel (Daily at 7:00, 9:00, 12:00, 2:30 pm and 5:00 pm), Parasail (Daily at 09:00 Hrs to 17:00 Hrs).
Snorkel( Minimum age 10+. No experience needed), Parasail(Minimum age 10+. No experience needed).
Snorkel (2 hours in the water + 1.5 briefing and transport), Parasail(10 minutes Parasail flight).
Door to door transportation is included.
So much to show, we couldn't keep it just for us!
12 hours before the selected schedule. Tickets subject to availability.
Purchase your tour in advance!
Due to security measures, we have a limited capacity.
Daily tour.
3.5 hrs duration aprox.
09:00, 12:00, 14:30.
Transportation included.
Best seller snorkeling tour.
English speaking guide.
Kids-friendly.
Price: $139.00 usd

Reserve Now & Pay Later
Secure your spot,
pay at check-in!
Free Cancellation
Up to 12 hours in advance

+52 99 82 34 08 70
Enjoy a Guided Snorkeling Tour in 5 different locations, visit the local reef, explore the underwater museum MUSA, swim with turtles, Underwater Cenote and finish the adventure in a sunken ship.

After that fly in parasail over the Sea of Cancun for an unforgettable sightseeing experience.

The Swim and Fly package fits perfectly in anyone's schedule. Save time in transportation and avoiding lines taking both activities in the same marina.
---

Start your experience with a prompt and comfortable hotel pick-up on air-conditioned vans.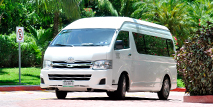 ---

If you choose our Reserve Now and Pay Later Method, or if you missed signing the e-waiver, this is time to complete so.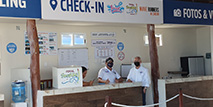 ---

Short but useful briefing on shallow waters. Learn to wear the equipment properly, swim with fins, breathe through the snorkel, defog the mask, and other useful tips that will make your experience much more enjoyable. Learn more about our briefing here.

---

Cancun reef snorkeling (first area):
El Meco coral reef has only 8-12 feet depth, warm water, and few or non-sea currents. With plenty of coral and playful fish schools, this is one of the best spots to enjoy snorkeling in Cancun itself. You may enjoy the first turtle encounter in this area!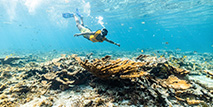 ---

Cancun Underwater
Museum (second area):
You have probably heard about the "Cancun snorkeling statues". We'll visit 2 galleries: "The blessings" and "Aquarium Family". The Underwater statues creators used a new technique and material for coral to grow on (made with pH-neutral cement, coral, seaweed, and algae are able to grow). The statues also have holes in them, which allow marine wildlife to colonize and feed off the coral.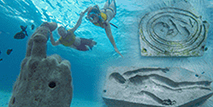 ---

Swim with turtles Cancun (third area):
Our secret spot to find sea turtles in Cancun! 96-98% of the times we got to see from 1-5 turtles! We might also find rays here. When was the last time you had the chance to swim with marine turtles on their natural habitat?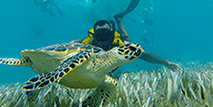 ---

Cancun Shipwreck snorkeling (4th area)
Explore a shipwreck filled with colorful coral, surrounded by countless fish. The shipwreck is posed on thin white sand, you'll feel like you are swimming in a natural turquoise pool!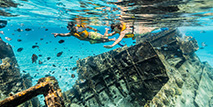 ---

Underwater cenote diving (5th area)
Discover wonderful cenotes that lay on the sea surface. Dive in these underwater cenotes and admire the fish that have inhabited them. It's one of the best things to do in Cancun.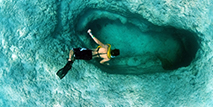 Back on the marina, after taking a freshwater shower, and watching your pictures, the van will be waiting for you to take you back to your hotel.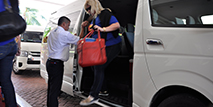 More Details

Roundtrip transportation from your hotel and back, in a comfortable air conditioned van

Both of the activities take place in the same marina, saving you time on transportation.

No experience is needed for any of these activities. Equipment and a brief lesson before each activity will guarantee a safe & fun adventure for anyone.

Both tours are enjoyed at sea, overlooking the famous and beautiful Cancun Hotel Zone and Isla Mujeres.

Towels, showers, lockers and bathrooms.

*Riviera Maya Hotels incur in an additional fee.
Included:
---
Roundtrip transportation on a comfortable air-conditioned van from any hotel in Cancun (Hotel Zone and Downtown).
Towels, showers, lockers and bathrooms with no extra cost. It's all about comfort and fun.
Great and friendly english speaking staff.
Passenger Insurance in both activities: premium insurance for all passengers during the activities.
Fast pass in waiting lines for both activities.
Custom Swimming Lessons, take a quick brief (15-20 minutes) to learn how to carry out the activity even if you have no experience. You'll be taught how to properly wear the equipment, swim with fins, breath through the snorkel, how to defog the mask and other useful tips.
Full snorkeling gear (mask, life vest, snorkel, fins, weights).
Special attention to non-swimmers: You'll receive a life vest, a professional guide will accompany by your side the whole time wearing a life preserver from where the non-swimmer can hold on, personalized attention during briefing-lesson.
"Extraction" service: the marina is located only 1 mile away from the reef, in case you get dizzy, a boat will take you to land in minutes!
Water taxi service: we take you comfortably, safely and dry from the departure spot (dock) to the main boat for parasailing.
Communication: Communicate through radio with the crew at all moment. You decide how high you want to go or if you want to go down before the expected time.
Assistance patrol always ready to help you!
Parasail flight over the Bay of Cancun: the boat runs 3 miles once you are on the air (approx. 10 mins. Flying).
Not included:
---
Dock fee ($ 15.00 usd. Per Person)
Transportation from Playa del Carmen and Riviera Maya available w/extra cost (select as needed in the next step).
Photo and video service (optional for purchase).
Tips to guide (optional).
Activity duration:
---
Snorkel (2 hours in the water + 1.5 briefing and transport)
Parasail(10 minutes Parasail flight).
Remember to bring:
---
Towel and swimming wear.
Wear comfortable clothes, shoes or sandals, cap or hat and sunglasses.
Biodegradable sunscreen.
Travel light weighted (avoid unnecessary bags and items).
Camera.
Cash or credit card for personal expenses.
Please contact us before booking if you have any health or physical problem.
Smile!:
---
Our paparazzi will be following you during the whole snorkeling tour and will take awesome underwater photos and video, which you will be able to see before going back to your hotel.
Link by email to downlad your picture and videos (back up for 1 month)
Get it for only $45 usd (price per family of up to 1-3 people, not per person).
---
You may also be interested in these products
---
Exclusive Guarantees
Safety in your
purchase
Completely secure and reliable online shopping so you can enjoy your vacation in Cancun. We use a 2048-bit SSL encrypted payment.
Bad Weather Warranty-Full Refund
If there's seaport closure (bad weather), enjoy your tour snorkel activity another day or if you prefer your money back.
Easy Reschedule Booking flexibility
Plans have changed? Don't worry, easy changes in day and time of activity.
No bookings fees and no hidden charges
No hidden charges, ours it's the official, fairest rate