Learn about our sanitary protocols and steps we are taking to keep you safe. Read more
Cancun Underwater Museum Snorkeling Tour
Underwater Museum Cancun - MUSA Snorkeling And 3 Different Spots
(Free Cancellation)
Tour Highlights
Free souvenir picture and frame booking here, in Total Snorkel Cancun's Official site.
Kids, elder and beginners friendly Fun and safe for all ages.
The reef is only 5 minutes offshore, forget about dizziness!
Swim with sea turtles in Cancun.
The only snorkel tour in Cancun over a Cancun shipwreck!
Enjoy 4 Cancun snorkeling spots in a single tour.
Individual attention. No waiting lines. Avoid crowds!
Purchase your tour in advance,
we have very limited capacity!
Daily tour.
3.5 hrs, duration.
09:00, 12:00, 14:30, 17:00.
Transportation included.
Best seller snorkeling tour.
English speaking guide.
Kids-friendly.
Price: $75.00 usd

Reserve Now & Pay Later
Secure your spot,
pay at check-in!
Free Cancellation
Up to 24 hours in advance

+52 99 82 34 08 70
Elevate your MUSA Cancun Underwater museum snorkeling experience adding 3 snorkeling spots for the same price
Besides admiring the beautiful Cancun Underwater Museum in Punta Sam, swim with turtles, enjoy a reef snorkeling and explore a shipwreck covered by coral. Everything during the same tour!
Cancun Underwater museum facts
The Cancun Underwater Museum known as MUSA is a non-profit organization focused to the art of conservation.

The Underwater Museum Cancun was created with the goal of saving the nearby coral reefs (damaged by tourists, anchors, and divers ) by providing an alternative destination.

The museum has a total of 500 sculptures, most by the British sculptor Jason deCaires Taylor, plus 5 Mexican sculptors. It was officially opened in November 2010.

The Cancun Underwater Museum is one of the largest and most ambitious underwater artificial art attractions in the world, visited by more than 100,000 visitors yearly on an average.

The Underwater statues used a new technique and material for coral to grow on (made with pH-neutral cement, coral, seaweed, and algae are able to grow). The statues also have holes in them, which allow marine wildlife to colonize and feed off the coral.

The layout is divided into 3 stages called Salon Manchones, Salon Nizuc and Salon Punta Sam, where our tour is enjoyed.

The best way to enjoy Cancun Underwater Museum in Punta Sam is snorkeling, since the statues are landed only 9 ft. deep. In warm and calm water, just as the rest of our tour (4 different snorkeling spots.)
Blessings
6 hands representing a latin symbol that wish the good for everyone. The statues were posed in a big circle looking to represent a bless from Cancun to the entire world
The sculptures were created by Elier Amado Gil, a cuban artist.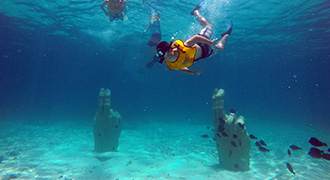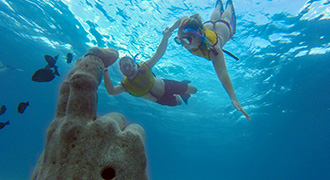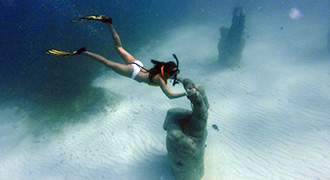 Vestiges
This gallery is a desperate call of attention for everyone! Admire a man, a woman and a human fetus, representing the fossils that will be found in the future, when the humanity will get extinct.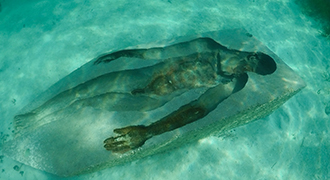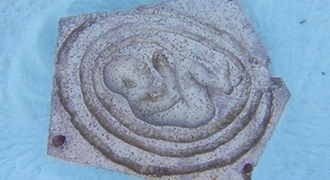 Enjoy a 4-in-1 guided MUSA snorkeling tour (including Cancun Underwater Museum): swim with turtles, discover underwater statues, snorkel on a full-of-sea-life reef and a shipwreck!

Have you ever wanted to visit MUSA, but would like something else besides underwater statues? We've heard you, enjoy 4 completely different habitats in the same tour!

1st area: reef snorkeling on a perfectly well-conserved coral reef, full of sea life. Snorkel with thousands of colorful fish!

2nd area: 2 art galleries of Cancun underwater museum (MUSA). Discover astonishing underwater statues.

3rd area: let's swim with sea turtles on their natural habitat. 98% of the times we manage to find from 1-5 turtles!

4th area: explore a shipwreck covered by coral surrounded by white sand, you'll feel on a natural pool. Fishes, lobsters, crabs and turtles loves this place too.
More details
Our Cancun Underwater Museum snorkeling tour has a duration of 2.5 hours approximately. Consider 1 additional hour for transportation.
Our Cancun MUSA snorkeling tour is friendly for people who do not know how to swim or have little or no experience! You can enjoy the tour as we offer life jackets, our trained guides will give you personalized attention and help in every moment. The guides will have a lifeguard where you can support yourself. Finally, we have masks that cover the face completely, so you will not have to breathe through the tube.
If you do not want to do the activity and just want to go as a companion on the boat you just need to make a prior reservation and pay the cost for it. The companion can be in the boat at all times with the other Total Snorkel crew, the crystal clear water will allow to observe everything that happens during the tour.
Total Snorkel Cancun have no restrictions on cameras or any device for capturing photos or video, however we can not be held responsible if they are damaged or lost at sea. If you want to have the best memories of your Snorkel tour in Cancun, we recommend you to get our package of photos and video. You will be able to see the incredible images we have taken for you before you decide to buy it.
Total Snorkel Cancun provides lockers with key so you can save your belongings safely, so the only thing you will have to worry about is to enjoy the tour.
In Total Snorkel Cancun service and safety are our top priorities. Groups will be kept small (max.10 people) in order to offer you the best service. If you're a larger group we can handle it under special request (at least 3 days in advance).
Included:
---
Downtown) on a private comfortable air-conditioned brand new van with a capacity of 10-14 people.
Complete snorkeling gear: Special snorkeling life vest, mask, snorkel, and fins in perfect condition. Masks with prescription and the brand-new easybreath snorkeling masks (ideal for kids and non-swimmers) are also available with no extra cost.
Short and useful briefing-lesson: Before getting on board, people with few or no snorkeling experience are invited to take a short but useful lesson on shallow waters. You will be taught to wear the equipment properly, swim with fins, breath through the snorkel, to defog the mask and other useful tips that will make your experience much more enjoyable
Total Snorkel Cancun qualified and friendly english speaking guides
4 snorkeling spots (Cancun reef snorkeling, Cancun underwater museum snorkeling, swim with turtles and shipwreck snorkeling)
Bottled water, shower and lockers
Passenger insurance
Not included:
---
Dock fee and reef conservation tax (total

$15.00 USD

per person). Payable at check-in
Tips (optional)
$ 5 usd deposit for locker key (refunded when returning the key)
Activity duration:
---
Tours run daily, 3 schedules per day:9:00 am, 12:00 pm, 2:30 pm.
Pick up by our transportation service for snorkeling cancun hotel zone, depends on the location of your hotel, and will be sent to you by email once you complete your booking.
Our transportation service will bring you to our Marina, where you will be welcomed and gave a short and useful briefing-lesson. Showers, towels and lockers are available at the marina.
Remember to bring:
---
Swimsuit, sunglasses, biodegradable sunscreen, dry clothes, towel, and cash.
(+15$ per person for the Dock fee)
Smile!:
---
Our paparazzi will be following you during the whole snorkeling tour and will take awesome underwater photos and video, which you will be able to see before going back to your hotel.
20 pictures of underwater fauna and landscape aerial views
Link by email to downlad your picture and videos (back up for 1 month)
Printed picture with a souvenir frame
---
You may also be interested in these products
---
Exclusive Guarantees
Safety in your
purchase
Completely secure and reliable online shopping so you can enjoy your vacation in Cancun. We use a 2048-bit SSL encrypted payment.
Bad Weather Warranty-Full Refund
If there's seaport closure (bad weather), enjoy your tour snorkel activity another day or if you prefer your money back.
Easy Reschedule Booking flexibility
Plans have changed? Don't worry, easy changes in day and time of activity.
No bookings fees and no hidden charges
No hidden charges, ours it's the official, fairest rate